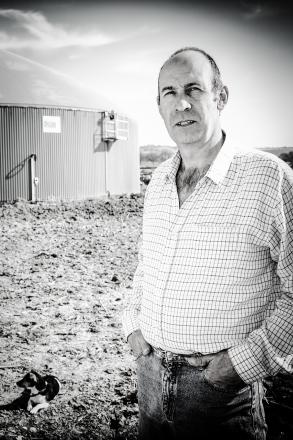 Biogas Pioneer, Farmer and Company Director
Owen is a Nuffield Scholar - Biogas pioneer, in 2005 he gained a Nuffield Farming Scholarship Award which is a travel Scholarship, the topic chosen was profitable biogas production in the UK. The study included travel to the USA, Canada, Germany and Denmark, as well as gaining knowledge of the UK market for Biogas.
Following the study and publication of study findings, planning permission for a plant situated upon Lowbrook farm was applied for and gained, for a plant fed by cattle slurry and Maize/ Grass silage. A DECC Bioenergy Capital Grant was applied for and awarded, to construct the UK's first crop powered biogas plant on the farm in Dorset. This plant has now been in operation for since August 2008. Technology provider selected as Biogas Nord GmbH of Germany.
Since the plant started operation, over 700 visitors have visited the site, and several open days and seminars have been held at the site, making it a valuable reference site for AD in the UK. Worked with Biogas Nord AG to establish Biogas Nord UK (during 2008) as a subsidiary of Biogas Nord AG, to offer the full range of plant sales & support services across the UK. By working with Biogas Nord, much knowledge of the technical and biological aspects has been gained during training with the company, and also knowledge of the broader Biogas market in Germany, and how their experiences can be used to develop the biogas sector here in the UK, under our circumstances.
By establishing a working plant, first hand knowledge of all aspects of biogas plant installation and development have been gained. Regulatory issues, planning, grid connections, OFGEM registration and good quality CHP accreditation have been encountered and overcome.
Owen also serves on the Renewable Energy Association (REA) Biogas Group (Current Vice Chairman) and represent Agriculture and the NFU on the DEFRA Anaerobic Digestion Task Group (ADTG) a group initiated by Defra to identify and remove obstacles to the objectives of making the UK a leading player in the implementation of Anaerobic Digestion.
He has been asked to consult on many projects and written a great deal of articles on the subject of anaerobic digestion. As a result of the Nuffield Scholarship, and the experience of establishing and running the first UK based renewable crop based AD plant, he has made many presentations, including a presentation the UK /France High Level experts Seminar in Paris in May 2009, on carbon reduction in Agriculture.
He now turns his expertise to biogas plant optimisation through CaviMax hydrodynamic cavitation technology and pioneering innovative biogas to biomethane projects in the UK and Mexico.